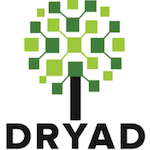 Information adapted from Dryad.
We are excited to announce that UW-Madison is now a member of Dryad, an open-access data repository where you can publish and publicly share your research data. This membership was pursued in partnership between the Libraries and DoIT.
Dryad was started by a community of researchers and is used by researchers worldwide to meet funder and publisher mandates for data publication. Dryad has been a repository we've recommended for a number of years and we are glad to say that with our institutional membership, depositing in Dryad is now free to UW-Madison researchers! 
Is your research data right for Dryad?
You are a UW-Madison researcher with a netID

The total dataset is 300GB or less

The data is able to be open access and:

Is not sensitive

Does not contain personally identifiable human subject information

The data is able to be licensed with the

Creative Commons Zero waiver

(CC0)
(Note: if your data is not appropriate for Dryad or you would prefer a different repository, reach out to Research Data Services for support in selecting another repository. MINDS@UW, UW's institutional repository managed by the UW-Madison Libraries, may also be another great option.)
Dryad Benefits:
Complete journal integration

– Dryad is leading the way in data publishing through partnerships with major publishers and journals to make manuscript submission easy.

Compliance with funder mandates

– Dryad's combination of services meets funder data sharing mandates.

Track the reach of your data

– Dryad provides metrics that measure the number of times an individual data publication has been viewed, cited, and downloaded.

Seamlessly connect software and data –when researchers submit to Dryad, they have the option to upload code, scripts, and software packages which will be automatically sent to Zenodo.
First-rate data quality

– all data submitted to Dryad are reviewed by a professional curator for data and metadata integrity.

Maximized data discovery

– Dryad's data publications are citable, shareable, and discoverable through major indexing services like Google Dataset Search and more.

Robust infrastructure and preservation services

– all data published in Dryad are safely preserved in a Core Trust Seal-certified repository.
Ready to get started? 
Dryad requires an ORCID iD to login. Once you have an ORCID iD:
Log in using your ORCID credentials, 

You'll then be prompted to authorize the connection between  your Dryad and ORCID accounts

Finally, you'll be prompted to select UW-Madison from a drop-down menu and use your netID to associate your account with our institution

Now, you're ready to deposit!
To learn more about other data sharing options at UW-Madison, visit our page on data sharing.